THIS EVENT IS OVER AND NONE OF THE ITEMS LISTED BELOW ARE AVAILABLE ANYMORE Edit
The Creepy Weeks (Fullname is: Creepy Weeks Part 3: Frightmare in 2014.) was an event that is based of halloween. Lasting from October 30th to November 17th. A total of 18 days, which is shorter than the previous event; Golden Age of Aviation which lasted a month. The event currency appears to be a coin with a bat on it. It does not have a name. The event currency could be bought. 10 AirCash for 10 and 40 AirCash for 50. You can buy things like Medium bays, Medium Runways and Helipads making it easy for new player to give service to planes they wouldn't have been able to. Here is a list over the things added in the Creepy Weeks event:
-Halloweenscape Panorama - 10 BatCoins (Backdrop) "A de-fright-ful atmoscare!"
-Haunted Parking Lot - 25 BatCoins (Reskin) "Services Medium Planes"
-Haunted Small Runway - 25 BatCoins (Reskin) "Lands Small Planes"
-Haunted Medium Runway - 35 BatCoins (Reskin) "Lands Medium Planes"
-Halloween Lamp - 40 BatCoins (Decoration) "Passengers: + 2, Radius: 2"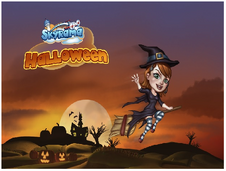 -Bone Fence - 45 BatCoins (Decoration) "Service Time: - 5%, Radius: 1"
-Haunted Helipad - 50 BatCoins (Reskin) "Services all Ramacopters"
-SOSferatu - 65 BatCoins (Small Plane)
-Helicrawler - 80 BatCoins (Ramacopter)
-Haunted Terminal - 90 BatCoins (Landside Building)
-Airy Shelley - 90 BatCoins (SeaPlane)
-Skython - 110 BatCoins (Medium Plane)
-Cadavera - 120 BatCoins (Cargo Plane)
Ad blocker interference detected!
Wikia is a free-to-use site that makes money from advertising. We have a modified experience for viewers using ad blockers

Wikia is not accessible if you've made further modifications. Remove the custom ad blocker rule(s) and the page will load as expected.