Also known as Red Alert or SOS Days. The Emergency event is an event that took place from April 14th to May 4th of 2015. All the planes, decorations and landside buildings were based of firefighters and lifeguards. Most of the planes added in the event were red. The Event Currency was a lifesaver. Not a single cargo plane was added during the event. Here is a list of the things you could buy:
Emergency Panorama (Backdroop) - 10 Lifesavers "Limited Edition"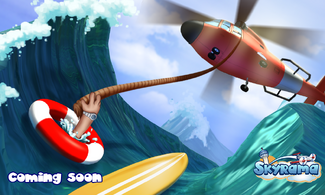 Destination Board (Decoration) - 40 Lifesavers "Passengers: +4, Radius: 2"
Light Tower (Decoration) - 50 Lifesavers "Service Time: -4%, Radius: 2"
Skywatch (Landside Buildings) - 60 Lifesavers "Collects 680 passengers every 180 minutes"
Agrarama (Small Plane) - 60 Lifesavers
Firefight Air (Small Plane) - 90 Lifesavers
Venture Air (Medium Plane) - 110 Lifesavers
Bald Eagle (SeaPlane) - 120 Lifesavers
Aerocopter (Ramacopter) - 130 Lifesavers
Mohawk M60 (Ramacopter) - 150 Lifesavers
Airion (Medium Plane) - 160 Lifesavers
Neptune 5 (SeaPlane) - 180 Lifesavers
Ad blocker interference detected!
Wikia is a free-to-use site that makes money from advertising. We have a modified experience for viewers using ad blockers

Wikia is not accessible if you've made further modifications. Remove the custom ad blocker rule(s) and the page will load as expected.