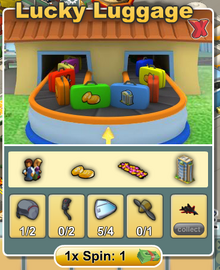 The Lucky Luggage is a daily "slot machine" that gives you more spins for the amount of days in a row you are on. The maximum spins for a day without using AirCash is three. You can enter the lucky luggage either by clicking the Lucky Luggage symbol to the left or clicking on the Luggage Depot which is a passenger building.
AirCoins 100-150
A decoration
An item to unlock the Rama-Falcon
Passengers 100-250
Ad blocker interference detected!
Wikia is a free-to-use site that makes money from advertising. We have a modified experience for viewers using ad blockers

Wikia is not accessible if you've made further modifications. Remove the custom ad blocker rule(s) and the page will load as expected.